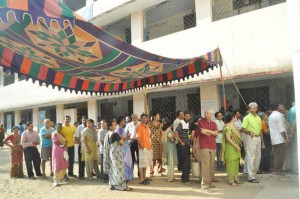 Polling was brisk in the morning in most parts of Mylapore on Election day (April 13) as people tried to escape from the summer heat.
With temperatures in the 34/35 degrees range, many people decided to get to the polling booths even as they opened at 8 a.m.
At the booth at a Chennai School (run by the city's civic body) on Sringeri Mutt Road, R. A. Puram, about 50 people were in the queue at 8.20 a.m. There was a significant presence of police and armed guards here.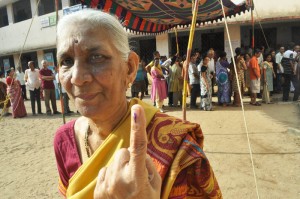 At about the same time, more than 75 people were in the queue at the booth at the Corporation divison office on C. P. Ramaswamy Road, near the Alwarpet flyover.
Many came by cars to cast their vote.
At the Chennai Hr. Secondary School on V. P. Koil Street, near Vivekananda College, there were over 100 people in the queue at about 9 a.m. Many seemed enthusiastic to cast their ballot.
In the P. S. (North) school campus about 75 people stood in the queue.
In some booths, since signboards were absent, women did not know there was a queue for them.
Senior citizens complained about the absence of a queue for them too.
There were many polling booths in the San Thome School campus on San Thome High Road. Police and armed guards were large in number here.
Over 200 people lined up inside the campus of Raja Muthiah School on School Road in R. A. Puram. One EVM failed to function and it caused some buzz. But things were set right soon.
There was a large police presence outside the booth on neighbouring Kamaraj Road, R. A. Puram. This area is 'sensitive'.
Candidates went around the constituency, checking out the trends at each booth and interacting with their booth agents.
By lunchtime, the queues at the booths had shortened. But in some places, there were queues at closing time – 5 p.m.
Seen in the top picture are voters waiting in a queue for their turn to cast their votes at a booth in Chennai Corporation High School, Canal Bank Road, Mandaveli and Dr. Shymala, a resident of Jeth Nagar, Mandaveli shows her ink mark after casting her vote at the same booth.

<< If you wish to share poll related experiences, please email them to mytimesedit@gmail.com