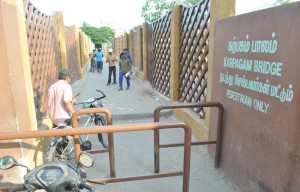 The new bridge across the Tholkappiar (Adyar) Poonga's north zone is aesthetic and well constructed.
But it allows access only to cyclist and pedestrains.
Bikes, autos, rickshaws and small cars are not allowed to use this bridge which links Karpagam Gardens and adjoining colonies in the east and Mandaveli in the west.
The old bridge was pulled down when the Poonga was restored. Since the consultants wanted the bird and animal life whihc is expected to grow in this natural scape un – disturbed, they suggeste a bridge that could be put to limited use.