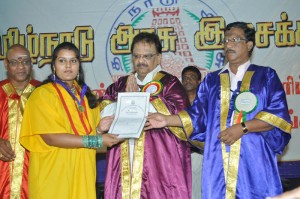 Tamil Nadu Government Music College located at Dr. D. G. S. Dinakaran Road had its 62nd convocation and prize distribution function on April 19. The event was held at the Tagore auditorium located inside the college campus.
P. A. Mani, Commissioner, Directorate of Art and Culture was the chief guest. He distributed the degree to the students.
Noted singer S. P. Balasubramanian was the guest of honour. He distributed the medals and gave a special talk on the occasion.
The photo shows R. Athithya, Bharatanatyam student getting her degree from P. A. Mani. She was the gold medalist and was awarded the title Natya Visharadha. Also seen in the photo is SPB.