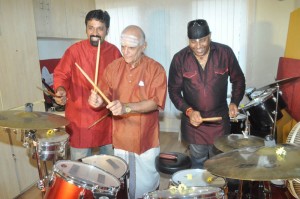 Jus Drums School of Percussion had a rousing launch at its new premises at Mookambika Complex in Alwarpet on April 10.
Mridangam maestro Umayalpuram K. Sivaraman and famous drummer Sivamani inaugurated the venue.
The studio is promoted by Murali Krishnan. He has been a professional drummer for the past 15 years.
Jus Drums was initially located at Nandamam.
The new studio is set in an area of 300sq.ft., and is sound proof.
This is first drums studio in Chennai which is sound proof and professionally built, says Murali.
Children as old as 5 years can join this studio to learn the skill.
There are two kinds of courses offered here, the introduction level and basic level, says Murali. " You don't need any prior knowledge of music, " adds Murali.
The school is open from 8 a.m. to 1 p.m. and 4 p.m. to 7 p.m.
It is located at F – 3, Mookambika Complex, Lady Desikachari Road. Ph:  98400 4682.