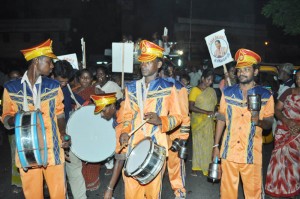 Here is what leading candidates contesting in the Mylapore constituency are promising the electorate. These points have been gleaned from speeches, interviews and printed sources. Most of them have not focussed on local issues.
K. V. Thangkabalu, Congress (I) – Put to good use long experience in politics. Provide educational facilities for all. Open local office where people can interact and give petitions. Permanent housing for poor living along Canal in same area. Set up polytechnics for youths. Public conveniences for women. Promote SHGs, work on demand for bus terminus in Mylapore, ensure temples are maintained well.
Rajalakshmi, AIADMK – Work for the interests of fishermen in San Thome, Foreshore Estate, support local housing for families living along the Canal who face eviction, address traffic congestion, create a bigger and better shopping and commercial zone like Pondy Bazaar, ensure roads are well laid and maintained, be freely accessible.
Vanathi Srinivasan, BJP – Being a Mylaporean, understand the civic issues and will work to address them, take up issues concerning women, attend to sanitation and sewage issues in Slum Board and kuppam areas, set up info booths near big temples to make people aware of less-known temples, address the one-way traffic system issue in Alwarpet and set up informal employment exchange involving private companies.
Ashoke Rajendran, Makkal Sakthi Katchi –  Address traffic issues like congestion in Mylapore, one way system in Alwarpet and hijacking of parking lots by businesses, address sanitation and hygiene issues in slums, kuppams and colonies, address public transport demands and services in Mylapore and hold regular meetings with councilors and officials to handle local issues.
J. Mohanraj, Jebamani Janata – Being a resident of Mylapore for 60 years, understands local issues. Work for Indian fishermen. Shift the local RTO office to a more spacious place. Promote terrace gardening in residences.