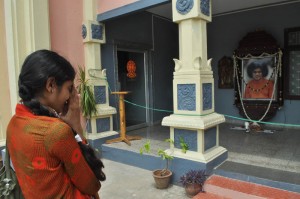 A girl pays homage in front of a portrait of Sathya Sai Baba that was kept at the entrance of the Sai Sundaram Temple in R. A. Puram.
Special prayers, bhajans and homam was held here on April 24 following the death of Sathya Sai Baba at Puttaparthi, Andhra Pradesh.
Many devotees participated in the special prayers held at the R. A. Puram campus.