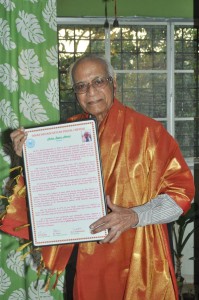 The Indian Broadcasters Forum has honoured P. V. Krishnamoorthy, one of India's leading media professionals with the Media Ratna award recently.
A resident of Raja Annamalaipuram, PVK as he is known in media circles has made a huge contribution to the radio and TV space in the country.
Starting out in All India Radio where he initiated many landmark programmes, he went on to become the first director of Indian television in Delhi, the first director of TV in Bombay and Doordarshan's first Director General.
His crowning glory, however was the successful operation of the internationally famous SITE (Satellite Instructional Television Experiment).
He was Vice Chairman of the Central Sangeet Natak Academi (1983 to 1988).
He has run many training programmes abroad and been a consultant after his retirement from government service.
Krishnamoorthy now lives on 2nd Main Road, R. A. Puram.