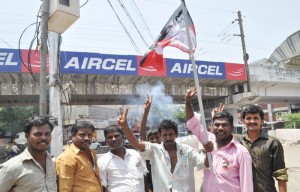 AIADMK candidate R. Rajalakshmi is the MLA ( Member of Legislative Assembly) of Mylapore.
She won the election getting 80,063 votes.
Her nearest rival was the Congress (I) candidate, K V Thangkabalu who got 50,859 votes.
The margin of victory was 29,204 votes.
Members and wellwishers of the AIADMK party celebrated on the streets  of Mylapore neighbourhood as news came in on Friday, May 13 that the party has won a majority of the seats in the elections to the TN State Assembly held on April 13.
Groups of men and youths brought out firecrackers and burst them at street corners and in public spaces.
As information trickled from the counting centre at College of Engg., Anna University, Guindy it became apparent that the AIADMK candidate for the Mylapore constituency was on the way to victory.
A resident of T. Nagar and an advocate, Rajalakshmi who has been in politics for a few years and less known led a spirited campaign.