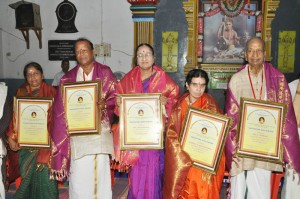 The annual Sri Thyagaraja jayanthi celebration was held at Sri Thiagaraja Sangeetha Vidwath Samajam in Mylapore.
On May 9, senior musicians were honoured with the Sangeetha Seva Nirata award. They are (L – R) mridangist Mannargudi Eswaran (his wife received  the honour), nadaswara vidwan Seshmapatti Sivalingam, vidushi Jaya Krishnan, violinist Kanyakumari and flutist N. Ramani.
Dinamani newspaper editor K. Vaidhyanathan was the chief guest at this event. the Samajam is near Sri Madhavaperumal Temple, Mylapore.