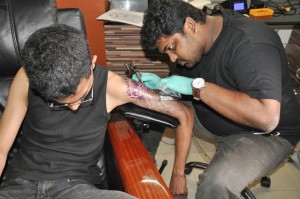 Tattooing the body is a new fad. Film stars, cricketers and musicians sport them. So do many young people.
Of late, the service has gone professional and a few places in the city specialise in them. Talisman is a tattoo boutique located in Venus Colony, Alwarpet.
It is owned and run by the husband and wife duo, Amar and Nisha. The business was started eight months ago.
Amar says that this is the first professional tattoo space in the city.
"We provide customised designs for our clients," adds Amar.
A client can also bring along their own choice designs and get them tattooed here.
The couple say they have been trained in Thailand and have over 5 years of experience as the main artists at Irezumi, a space in Nungambakkam. They have worked on over 10000 plus permanent designs.
This tattoo shop is famous for its talisman brand. And has a wide variety of good luck designs.
A permanent tattoo costs Rs.1500 and one in colour, Rs.2500. They also provide temporary tattoos at Rs.250.  This design will stay on for five days, says Amar.
Apart from this service they also provide coverups for older tattoos.
This is undertaken depending upon the design and colour of the existing tattoo, he says. Cover-ups can also be used for covering scars and stretch marks, he adds.
This tattoo boutique also provides a certified tattoo-making course. This course is held for duration of three weeks and costs Rs.75000.
The store also has a permanent offer. It gives you a discount of 10% off on your second tattoo if you have already got done your first one at this place.
The shop is open from 11.30 a.m. to 8.30 p.m. Monday to Saturday.
Talisman is located at 11A, Sriman Srinivasan Cross Street, Venue Colony, Teynampet. Ph: 98413 18546, 98840 66676. Website: www.talismantattoos.in