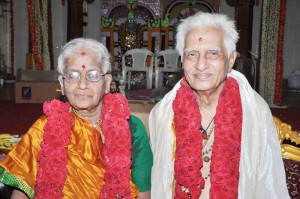 T. R Balasubramaniam, a resident of Mylapore for over 50 years had his sathabishekam celebrated in a grand style on May 3 and 4 in Mylapore.
TRB or 'LIC' Balu as he is fondly called by many, hails from Mayiladuthurai (erstwhile Mayavaram) in Tanjore district and moved to Chennai in 1954 and had a long stint of 36 years with LIC and retired in 1991.
His wife R. Alamelu, has been a secondary grade teacher by profession and had a teaching career spanning over 35 years initially in a school in Mylapore and then in Saidapet.
TRB's family celebrated his sathabishegam in the presence of their relatives and friends. Rudhrabishegam and Vidhwat Sadhas was performed.
Trichur Brothers Srikrishna Mohan and Ramkumar Mohan performed a concert. Udayalur Kalyana Raman and his group performed Namasangeerthanam on one day.
Kalyana Raman also released a book which was published by TRB's daughters and son-in-laws in commemoration of the sathabishegam celebrations – the book has pictures of the favorite deities of TRB and also slokams on Ganesha and Shiva, apart from a shorter version of Ramayan which can be chanted daily by anybody.
The couple resides at 45/3, VSV Kovil Street, Mylapore. Ph: 24986263
– This report was contributed by Prakash M. Swamy