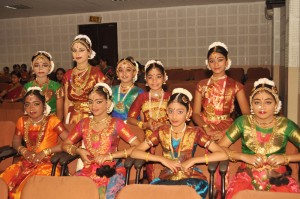 A inter – school Bharathanatyam competition was held on June 24 at Sir Sivaswami Kalalaya Senior Secondary School, Mylapore.
Dancer Rojakanna was the chief guest and judge. This contest was organised by K. Balasubramanian, Director of Sri Ganapathy Natyalaya.
Many school participated in this solo event and the first prize was shared between R. Anandhitha of Sir Sivaswami Kalalaya S. Sec. School and R. Akshaya of Bhavan Rajaji Vidyashram.
The second place was shared by Bhairavi Venkateshan of Bhavan Rajaji Vidyashram and R. Ishwariya of P.S.B.B.
The third place was also shared by two students. T. Monisha of Chinmaya Vidyalaya, Virugumbakam and Simran Sivakumar of P.S.B.B.
This is an annual event held at this school and is open to students of classes 6 to 8std.