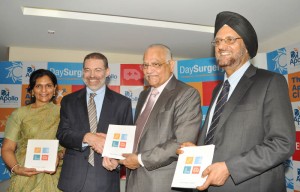 Apollo Hospitals has opened its first Day Surgery Hospital in Alwarpet.
Andrew T. Simkin, Consul General, US Consulate, Chennai, inaugurated the facility.
Ajit Singh, Consul General, Consulate of The Republic of Singapore was the guest of honour.
Dr. Prathap C. Reddy, founder – executive Chairman, Apollo Hospitals group and Preetha Reddy, Managing Director, Apollo Hospital were present on the occasion.
Apollo day surgery and clinic offers consultation, diagnostic service and emergency care.
The facility is spread over 4 floors and has 3 operation theatres. It has 20 beds including the recovery bay. The hospital is equipped with 12 consultation rooms and an Endoscopy suit.
Apollo decided to launch this facility to provide for simple surgeries that do not require people to travel to a busy central hospital and it has plans to open similar ones in other zones of the city. It also says that the best state-of-art facilities are in place here.
The facility has a 24×7 emergency bay and ambulance service. The hospital is also equipped for cardiac emergencies, says Dr. Prathap Reddy.
Treatments for ENT, neurology and gynaecology can be done at this centre. It also provides lab testing and radiology services, he says. The aim of this facility is to take hospital care to clinic care. Our next step is to take to home care, he added.
There is a 24×7 Apollo Pharmacy that is stocked with OTC, ethical medicines and surgical disposables. The facility is built at a cost of Rs.5 crores.
The Apollo Day Surgery Hospital can be reached at 2467 2200, 2498 8865 / 66/ 67. For ambulance call 1066. The hospital is located at 12, C. P. Ramaswamy Road, Alwarpet (alongside the Alwarpet flyover, south side).