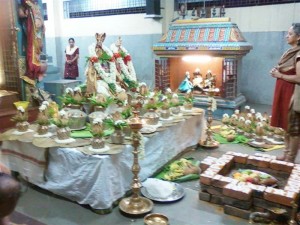 To mark the sixth anniversary of the Kumbhabhishekam, a special homam, sahasra kalasabhishekam and puja was performed on July 7 at Sri Sakthi Vinayagar Temple at Kesavaperumalpuram on Greenways Road.
The homam, abhishekam and pujas were performed in a grand manner by Mahesh Gurukkal ably assisted by the temple priest Ekambaram Gurukkal.
This was attended by a good congregation of devotees from Kesavaperumalpuram who received the blessings and prasadams of the deity Sri Sakthi Vinayagar.
Earlier, a grand anna pavadai celebration was conducted at this temple on May 29 to mark the completion of the Agni Nakshatram period.
During all the days of the entire Agni Nakshatram period, the presiding deity Sri Sakthi Vinayagar was decorated with Vettiver and Vlamichaver canopies and the deity had a constant 24 hour shower of rosewater from a Dharaapaathram from above to ward off heat.
The decorated anna pavadai offering placed before the deity was the highlight of the celebrations.
– Report and photo by V. Gopalan