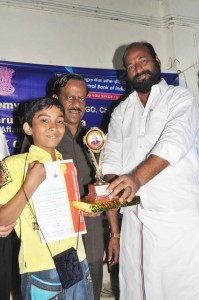 J. R. Mugil Vanjinath a 6th std. student of P. S. S. Sec. School, Mylapore was the winner of the 16th Arivukkalanjiyam award for children.
Mugil is a resident of Mylapore and had won the contest in the group B level.
The award ceremony was held at Srinivasa Sastri Hall, Luz Church Road on July 31.
T. K. M. Chinnayya, Minister of Environment, Gov. of TN was the chief guest. He distributed the Arivukkalanjiyam award to the children and addressed the gathering.
This was organised by M. T. S. Academy, Chennai, Nehru Yuva Kendra, Ministry of Youth Affairs and Sports, Govt. of India and Central Bank of India.