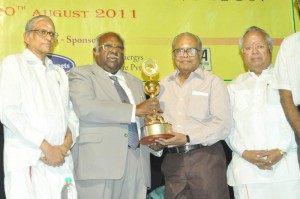 The 42nd annual awards for Tamil dramas and television serials event organised by Mylapore Academy was held at Narada Gana Sabha on August 20.
Justice A. R. Lakshmanan, former Judge, Supreme Court of India was the chief guest.
Filmmaker K. Balachander, Dadasaheb Phalke Award nominee was felicitated on the occasion.
Many Mylaporeans won awards in different categories. They are: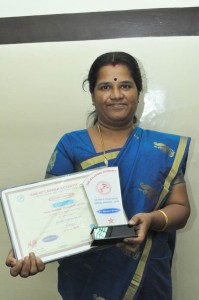 Kalpagam Madhavan was awarded for the best music appreciation TV programme for the show Ellamey Sangeetham. She is a producer for Doordarshan (Podhigai). Kalpagam is a resident of M. K. Amman Koil Street, Mylapore (photo on left).
The award for the best sabha for promotion of fine arts was given to The Mylapore Fine Arts Club, Chennai.
Actor Sushasini Maniratnam was awarded for the best chat show anchor for her show 'Hasini Pesum Padam'.
Actor Radha Ravi was awarded the K. N. Dhandayuthapnai PIllai Trophy for Lifetime Achievement.
Varadarajan (photo below) of Karthik Fine Arts and Gopalakrishnan of MFAC were recognised as the best volunteers (photo bottom left).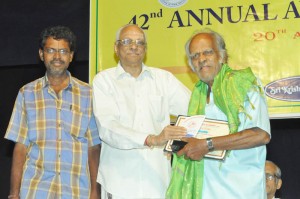 N. Ethirajan of Mylapore Arts Academy was honoured for being a veteran secretary / office bearer of city sabha (photo bottom right).
No wonder the Academy's ward function runs for over 4 hours!