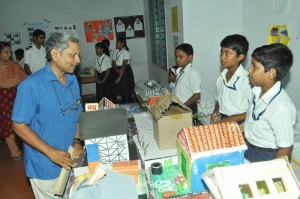 P. S. Senior Sec. School, Mylapore is aiming for the British International award this year.
In this effort we are organising yearlong events, says Dr. P. Revathy, ISA Coordinator at this school.
The inauguration of this was held on August 6 with an exhibition. The theme for this exhibition was on international houses, festivals, animals and their young ones, she added.
The event was inaugurated by Dr. R. R. Krishnamurthi, Associate Prof., Geology Dept., Madras University.
This award is a benchmarking scheme that accredits schools as having an outstanding level of support for its teaching practice by adding international dimension to its curriculum and bringing in innovation to classroom curriculum transaction, she says.
This gives the school an opportunity to involve its students in activities based on different themes, says Revathy.