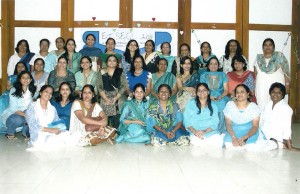 The 1983 batch of Rosary Matriculation Hr. Sec. School had a informal reunion on August 7 at the Alumni Club, Boat Club Road.
The batch is meeting after about three decades.
32 batch mates participated in this reunion. This meet was organised by Shanthi Seshadri and Syama Selvan. Many of them had come from abroad for this purpose, says Shanthi Seshadri.
All of them took part in the lunch and games that were organised.
"We have plans to meet once a year,"  she added.
Other members of the 1983 batch can reach this group at shanthisesh@yahoo.com.
<< If you belonged to this batch and wish to share a few memories of that time in school, do post them here and they will be published >>
>> If your school / college reunion which roots in Mylapore is held, do mail pictures and a note on the event to be posted here >>