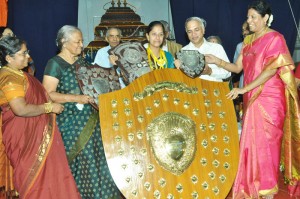 Lady Sivaswami Ayyar Girls' Higher Sec. School, Mylapore had its 143rd School Anniversary and prize distribution on August 6 at its premises.
Dr. P. K. Pratapchandran, Principal, Archariya College of Engineering Technology, Pondicherry was the chief guest.
R. Gayathri who stood first in the recent Plus 2 Board exam was awarded the rolling shield, certificates and cash prizes. She is a resident of T. S. V. Koil Street, Mylapore (seen in the photo above).
N. Aparna of Class XII was awarded the J. Jayalalithaa rolling shield for her all-round proficiency during the acedemic year. She was also the school pupil leader.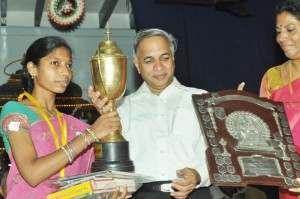 R. B. Rekha the school topper of class X was awarded for her excellence. She was given a certificate and a cup (seen on left).
Rekha is a resident of East Mada Street, Mylapore and comes from a economically weak background.
Apart from excelling in other subjects, she has also stood first in many essay and oratory contests.
Also present on the occasion was the President, The National Boys' and Girls' Education Society, T. R. Mani.
<< MYLAPORE TIMES encourages students to report on events in their campus / neighbourhood>>