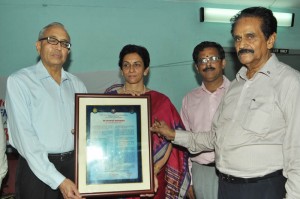 Scholar and writer Dr. Chitra Madhavan of R. A. Puram was decorated with the 'For the Sake of Honour' award by Rotary Club of Madras Centenary at a function on August 10.
The citation was handed to her by N. Murali, JDM of The Hindu in the presence of former DGP, V. Vaikunth.
Chithra's doctoral study was on 'Sanskrit inscriptions of Tamil Nadu; Historical and Cultural Study'. She has authored five books including a series on Vishnu Temples of South India.