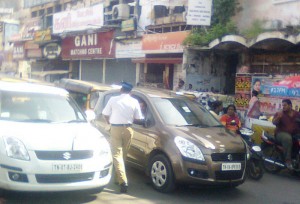 Chennai city traffic police (CCTP) distributed leaflets to motorists near Luz signal on Sept.16.
The police were  stopping motorists right on the stop line to educate them to follow traffic signals and parking rules.
As a part of the awareness campaign to adopt parking discipline the police were seen talking to several motorists especially the car owners.
This very useful campaign had an advisory such as park only in notified parking areas, avoid haphazard parking on streets.
The interesting bit was about the CCTP's advice to shun those commercial establishments who do not have adequate parking space.
– Reported by Vijayan Aravamudhan