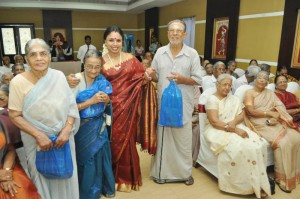 P. Obul Reddy Senior Citizens Home celebrated Elders Day today at Raj Palace Sundar.
Vocalist Sudha Raghunathan was the chief guest.
Over 40 senior citizens attended this function. They were presented with new clothes and gifts.
Munoth Communication Limited, Triplicane introduced the senior citizens to a new model of cell phone. They were also taught how to handle calls and give alarm when their need help.
A few contests were held earlier and the winners were awarded with gift during the occasion.
Also present on the occasion was the President, Vice- President and members of Andhra Mahila Sabha.
Presently the home has 43 inmates. Apart from proving food and shelter the home also provides weekly spiritual discourse and yoga classes.
It is located at 12, Dr. Durgabai Deshmukh Road, R. A. Puram. Ph: 2495 0815.