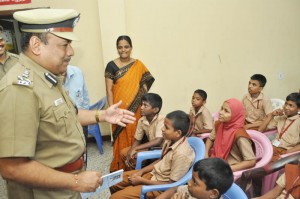 The students of Sri Karpagavalli Vidyalaya Middle School, Mangolai went on an awareness camp to the Mylapore Police Station on Oct.8.
About 50 students both boys and girls from class 6 onwards were briefed on what they should when an accident or problem occurs, traffic rules, various levels of police officials and how to find out their ranks, how to register a complain and so on.
Join Commissioner Seshai and Mylapore DCP T. K. Puhalenthi brief the students.
This camp is part of the Joy of Giving week, says G. Gopalan, trustee and treasure of this school.
They were also taught about the safety measures that should be undertaken during the Diwali celebration, he says.
The school recently won the second prize in the Kolu contest held at Island Ground. They contested with 40 other city schools.
This school can be reached at 2495 8726.