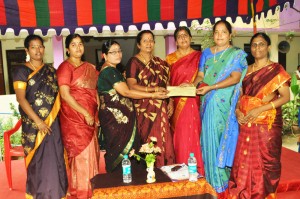 Rani Meyyammai Girls' Higher Secondary School, R. A. Puram had its alumni inaugural function on Oct. 11 in the school's premises.
This was held in remembrance of Rani Meyyammai aachi, who's birthday was celebrated on that day.
Anuradha Krishnamurthy, alumni of the school and Carnatic music vocalist and actress was the chief guest.
Many past pupils of the school were present on the occasion. A group of them who are also teachers at this school now presented the school with a cash amount of Rs.5000 (seen in the photo).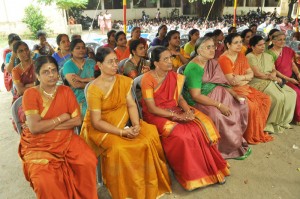 The Lions Club, Chennai Global Metro West honoured 22 teachers of the school who had produced centum in the recent Board exams.
K. Anusya, retired Tamil pandit of the school was honoured. She was presented with a memento.
Some of the alumni spoke on the occasion, they recollected their experience and memories at the school, says K. Mangaiyarkarasi, Headmistress.
The school will be celebrating its golden jubilee in January 12, she added.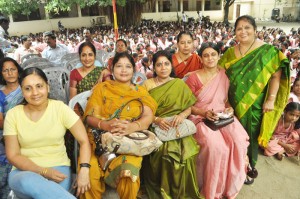 The alumni can reach the school at 2495 0232 or email to kmangaiyarkarasi@ymail.com.