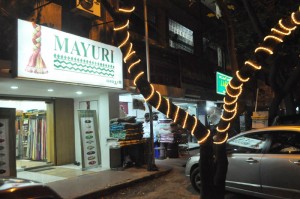 The Diwali shopping buzz is not really sharp in the neighbourhood. But shoppers are checking out new destinations and old to find out what is new.
Over recent times, the Alwarpet area has slowly turned into a destination for many boutiques. Each seems to have a signature of its own.
Reason why women who love smart designer wear and chic clothes are slowing down in this area and checking out the old and the new stores.
Tulsi Silks on Luz Church Road continues to draw big time shoppers with it eccletic variety of Indian clothes.
There are a few names down Eldams Road. And also in Mookambiga Complex on C. P. Ramaswamy Road.
Yuvaa Designers, located at Lady Desikachari Road, Alwarpet has a wide collection of kurtis and salwar materials.
Pooja Purohit  says this year her clients who are youths are opting for kurtis as they can match them with readymade pants and leggings.
The mid end of TTK Road also has a few boutiques and some regular shoppers.
Banas is new on this stretch and Mayuri who runs the place that needs to look a tad smart, says that the youngsters prefer to buy salwars that have heavy embroidery and hand work, while women prefer to go for a grand sari.
This shop sells hand embroidery salwars and sari, party wear salwars, kurtis and fabrics.
Asharaa boutique located at Bheemanna Garden Road, Abhiramapuram is having a special sale of lifestyle products.  Many people are buying cushions, covers and rugs this season, says Bhanu, the manager here. An indication that people do go beyond personal clothes at Diwali time.
Madhu, the manager at Aavaranaa  boutique on Ashoka Street says that people who come to their boutique prefer silk saris that are lightweight and have good colour combos.
A line of shops in the Corporation Complex on C. P. Ramaswamy Road – Azure, Sanskruitie, Stree and  Mayuri have spiced up the offerings for shoppers.
Of course, the veteran is Shilpi boutique in the same area. The saris and materials adorning its windows are enough to draw people in.