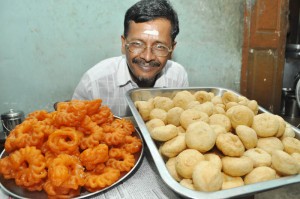 There are two types of Mylaporeans at Diwali time. One is the type where senior family members are proud to make snacks and sweets at home, even if it means long hours in the kitchen. Sweets that follow recipes handed down the generations.
The other Mylaporean banks on neighbourhood cooks.
Cooks who are big names in the catering business and those who may have served at weddings and social functions for years. These cooks mesh their bigtime wedding orders and making sweets and savouries for festivals.
This past week, we met up with a few cooks who surprised us – for, they had already started making sweets in large quantities since last weekend.
"The wedding season has got going," said one of them. "So it is easier to cater to the weddings as well as to families who turn to us at festival time."
At Sri Annai Saradambal Catering who is located on Canal Bank Road, R. A. Puram orders are steady.
"Our fresh jangiris are the hot favourites", says R. Kannan, who manages this place. "We cook them when a client orders for them."
Kannan's clients place orders a week in advance and delivery is made a day or two before Diwali. Kannan's team also specialises ribbon pakoda, butter mixture and badhushas. All these are priced at Rs.275 per kg.
"This time we are undertaking special orders for 'thala Diwali' foodstuff", he adds.
Ph: 94453 44367, 94454 36820.
At Raju Iyer Catering at Adam Street, Mylapore you can order for jangiris, badhushas, laddus, milk cake and Raju's special mixture.
The hot favourites here are the jangiris, badhushas and special mixture, says R. Hariharan.
"On an average we make about 6000 pieces of the jangiris and badhushas and 250 kilos of the special mixture, he says. Mylaporeans are quick to place orders here and pack off their bags as soon as they can.
These snacks are priced at Rs.250 per kilo. Ph: 94444 34269, 3200 0423.
N. S. Anandan Caterers at Abraham Street, Mylapore also undertake specialised orders.
"Orders normally come to us four or five days before Diwali," says Anandan.
Apart from jangiris, laddus, badhushas and mixtures he also makes chocolate cakes, wheat and badam halwa.
These are priced from Rs.240 per kilo onwards. Ph: 2464 3251, 98403 96042.
Subham Ganesan, who has been long in the catering business and is located at St. Mary's Road also undertakes special orders for sweets and savouries at festival time.
Apart from jangiris, badhushas and special mixture, one can also order for packs of assorted sweets.  Prices start at Rs.260 a kilo.
The jangiris, badhushas and special mixture is priced at Rs.240 a kilo.
Ph: 2461 6007, 2493 3656.