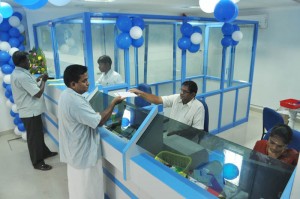 City Union Bank Ltd. has opened a new branch at Mylapore.
This is the 276th branch of this bank. It was inaugurated by M. Murali, Proprietor, Sri Krishna Sweets on Oct. 24.
This new branch is located opposite Bharatiya Vidya Bhavan in East Mada Street and is set in 2000sq.ft..
Apart from the standard banking facilities we also offer a safe locker facility, says N. Prabha, manager.
The ATM facility was open by J. Radhakrishnan, advocate.
The branch functions from 10 a.m. to 2 p.m. and 2.30 p.m. to 3.30 p.m., Monday to Friday and from 10 a.m. to 12 noon on Saturday.
Address –  29, East Mada Street, Mylapore. Ph: 2462 9353, 93803 50743.