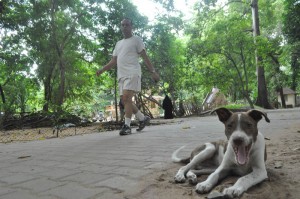 Must we leave the dogs alone?
This is a question that pops up in the minds of a few daily walkers at Nageswara Rao Park nowadays.
'Let sleeping dogs lie', is the old adage but not everybody who comes across this pack of dogs in what is Mylapore's biggest and most favourite park wants to nod in agreement.
Hundreds of people, young, senior and famous walk, relax and exercise at this park in Luz. Of late, a pack of dogs have made this place home.
But some walkers want the animals out for fear of attacks.
"If people stop feeding the dogs they will move out in course of time', said a writer in a letter to this newspaper.
Shwetha of 3rd Cross Street, Mandaveli has a different opinion. 'According to me, a park is a place not only for people to go for a walk or for children to play. It is a place where one can associate ourselves with Nature.
A park is complete only with it's components of plants, trees, chirping birds, little insects and a few loyal friends (dogs) here and there. So, steps need not be taken to send the dogs out of the park, as we as human beings have a moral duty to provide protection and shelter to dogs.'
C. V. Bharath of Mylapore says the dogs are friendly and do not harm anybody.
R. Ravichandran of Luz Avenue says in a letter to this newspaper, "Ewo of those dogs literally act as watch dogs during night hours in the lonely Raga Sudha stretch of Luz Avenue.  On two occasions those dogs thwarted chain-snatching attempts and helped patrol-police to apprehend the culprits."
The dogs at the park certainly seen to be on the minds of many walkers. At least going by the strong reactions of Mylaporeans to one suggestion that they should be cleared out.