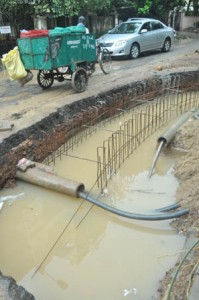 The North-east monsoon has broken. It began to rain steadily on Monday night as shoppers did their final rounds for Deepavali.
The rainfall became heavy through the night and has been continuous through Tuesday on the eve of the festival of lights.
As the dark clouds moved slowly above the Marina beach on the eastern side of the neighbourhood, residents in the colonies had to confront problems that the rains bring – flooded streets, potholed roads and stinking, uncleared garbage.
Take the case of Abhiramapuram 4th Street where the storm water drains still under construction were flooded (photo featured on left).
Mandaveli Street was flooded too. The residents here say that this has been the state of this road for a  year. There are no proper drains for the water to drain out, they add.
A similar sight of flooding was seen at Kesavaperumal Street, Mylapore and Thiruvengadam Street, Mandaveli.
The potholes on R. K. Mutt Road slowed down traffic and frustrated shoppers today.
Branches of  avenue trees which had fallen due to the steady rain were seen at Chandrasekaran Street, Mandaveli (opp. new RTO office).
Photo captions: A large pothole at R. K. Mutt Road; a woman walks past a fallen tree branch in Chandrasekaran Street; water stagnates at Kesavaperumal Street, Mylapore and on Mandaveli Street.