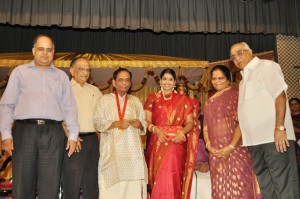 It was a quiet, simple and crisp start.
A short nadaswaram recital, short speeches, the award ceremony, a short break and then, the opening concert.
Bharatiya Vidya's Bhavan's Chennai Kendra hosts the season's fest early. It warms up rasikas and artistes and allows other sabhas to make use of the main and mini halls on this campus in the heart of Mylapore.
So the curtains went up on Sunday, November 20.
There were awards for Dr. M. Balamuralikrishna, Sembanarkoil S R G Rajanna, Nithyasree Mahadevan, violinist Parur M. S. Anantharaman, Suguna Varadachari and Prapanchan Sitaraman and young Abhilash.
The loudest cheers were reserved for artiste Abhilash who is seen as a bright, talented teenager on stage.
The awards were given in memory of arts connosieur and patron Obul Reddy. And the purses were generous too.
When a speaker said rasikas see more of Nithyasree on the TV serial, 'Airtel Super Singer', she suppressed a smile and the audience was amused. Nithyasree is a judge on this popular music contest show.
Nithyasree went on to present a concert and included a song made popular by Madurai Mani Iyer, whose centenary is being celebrated now.
The concerts will run through this month and are open to all. On Sunday, extra chairs had to be provided in the lobby of BVB and rasikas enjoyed the concert relayed on a screen here.
<< You can enjoy pictures taken at this event at www.kutcheribuzz.com >>>