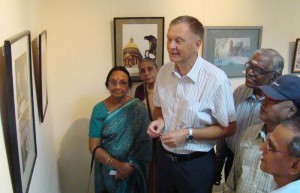 National Unity Day of Russia was celebrated on Nov.5 at the Russian Cultural Centre.
Russian Consul General Nikolay A. Listopadov, Director Vladimir Mariy, President Audimoolam, Probn Rtn. Dr. Balambal light the lamp.
A photo exhibition was opened by Rtn. Probn PP Dr. V. Balambal. She also spoke about Indo-Russian Friendship from Nehruji's time.
The Consul General, Director  Vladimir Mariy,  Thangappan Probus Club President Adiloolam  and  Probus Fellow Rtn C R Vaitheeswaran,  addressed the gathering.