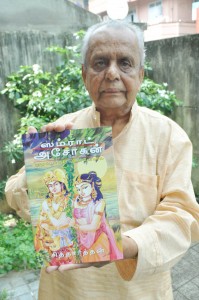 Mylapore-based writer Siddharthan has just released his historical novel titled 'Samrat Asokan'.
Siddharthan is the pen name of K. Sivasubramanian, aged 80. He is a resident of Balakrishna Street, Mylapore.
Dr. Ramagurunathan released the book and the first copy was received by S. V. Ramanan of Jaisree Pictures.
'Samrat Asokan' focuses on the early life of the king who came to be known as Asoka the Great.
" I have chosen to deal with this man's life well before he came to be kind and my book weaves fact and fiction together," says the author.
Siddharthan says that the recent release is the first volume of a four-part series.
"Each volume speaks about the king's life at different stages," he adds.
He says the series aims at telling people about the principles that Asoka followed and how he adapted them during his rule and after.
The novel is priced at Rs.200.
Sivasubramanian has been a resident of Mylapore for the past 6 years. He retired as an engineer from the Department of Telecommunication and took to writing full time.
The author can be reached at Flat C, Vikas Flats, 19/8, Balakrishna St., Mylapore.
Ph: 2498 0024. E-mail – manimini@hotmail.com.