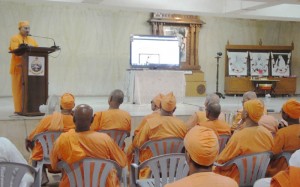 Vivekanandar Illam is a landmark of this city, located off Marina beach. Now, Sri Ramakrishna Math has launched a website. Swami Gautamamananda (Adhyaksha, Sri Ramakrishna Math, Chennai) inaugurated the site.
The web site provides details about the place, its history, the exhibitions at the Illam and activities conducted there.
A "Plan your Visit" section helps visitors by providing them with information on timings, transportation and facilities at the Illam. The website link is www.vivekanandahouse.org.
Swami Gautamananda also unveiled a new project "Experience Vivekananda" aimed at creating new galleries showcasing Swami Vivekananda and his impact on the modern world and also upgrading and equipping Vivekanandar Illam with newer technologies to reach out to youth visitors.
The project is a part of the ongoing celebrations for Swami Vivekananda's 150th birth anniversary.