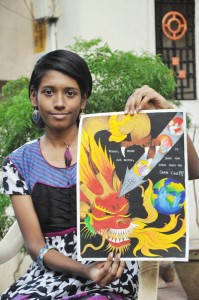 P. S. Nandini a 10th std student of Sir Sivaswami Kalalaya Senior Sec. School, Mylapore won the first prize in the painting competition conducted by The Hindu newspaper. She won in senior category.
The theme was 'rainy day' and Nandini who has won many prizes in creativity events made a big splash.
She is a resident of Narasimapuram, Mylapore.
"I have been painting from childhood and my father has been my mentor," says Nandini.
Nandini has won prizes in contests organised by the Archaeological Survey of India, Ramakrishna Mission Students' Home, Childrens' Club, SAIL and Getit Free Ads and Art and Craft Department, Govt of Tamil Nadu.
She is also a member of the school's Nature club and the World Wildlife Fund (WWF). She can be reached at 24614615.