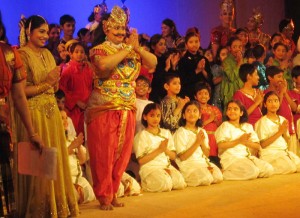 Hari Shree Vidyalayam School celebrated its fourth annual Dhanur Vaibhav on Dec. 17 and 18.
Dhanur Vaibhav is a celebration of the classical arts and is held every year in conjunction with the Marghazi Performing Arts Festival in Chennai.
The program included classical music renditions, bharatanatyam performance by the school students and a classical dance recital by guest artist Bhavana Shiv Shankar.
The main attraction on both evenings was the dance drama Sarvajnam. This plays was about the manifestation of this epic hero- from his eventful birth to his quintessential role in the Kurukshetra (seen in the photo).
The two day program was inaugurated by the Chief Guest Dr. Meena Muthiah and the School Director, Geetha Muthiah .
Dancers Shanta Dhananjayan and V. P. Dhananjayan was the special guest on day two.