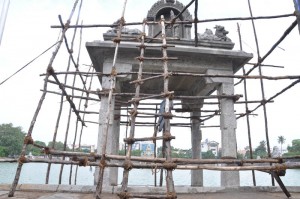 The mandapa at the southern side of the Sri Kapali Temple tank is been renovated.
This mandapa has been damaged badly and we are rectifying it says, A. T. Paranjothi, Assistant Commissioner and EO of this temple.
We will also be repairing the steps that lead to the temple once the rains stop, he added.
All the repair work will be completed before the annual teppam festival that begins in mid January next year.