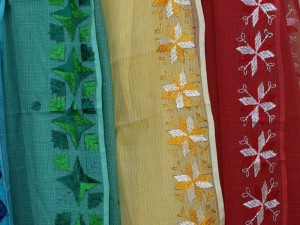 Hands of India, a Bangalore based group is having an exhibition of hand crafted products at C. P. Art Centre till Dec.11.
On display are hand embroidered cotton saris in Kota and Mangalgiri fabrics, dupattas, kurtas, bed linen and cushion covers. The products are made by traditional artisans and are great buys.
Yuvaa Deziners has a new collection in kurtis and tunics in Jaipur cotton, designer sets in Maheshwari, Chanderis,
The boutique is at 7 Lady Desikachari Road, behind Trinity Hospital, Mylapore. Ph: 98404 44484.
MOOWES is conducting an axhibition and sale of products marketed by women at C. P. Art Centre from Dec. 2 to 5. On display will be ethnic wear for women, Bengal cotton, silk cotton and designer saris, churidhar materials, kids garments, designer jute bags, fashion jewellery and beauty products.
Mrignayanee is organising a sale on Maheswari fabrics from Dec.1 to 15 at its premises. On sale will be Maheswari saris and dress materials from Madhya Pradesh. These are priced from Rs.1200 to 3500.
Mrignayanee is at TNHB Complex, 180, Luz Church Road, Mylapore. Ph: 94441 20027.