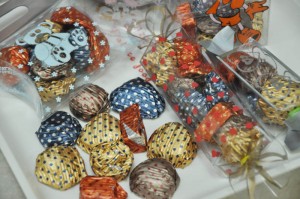 Christmas is just a fortnight away so if you need to do your early shopping, here are some leads which may help you.
Local bakers, brand stores and individuals have started preparing special goodies for Christmas. Rich plum cakes and home-made chocolates seem to be much in demand.
Punitha Coilpillai a resident of CIT Colony has started supplying her traditional rich plum cakes.  Since the raisins and nuts that go in the cake are soaked in rum the cakes mature over time and taste better. These cakes have a shelf life of a year, she says.
One can order in bulk or in pieces. Punitha will take orders till Dec.21. The contact – 98842 41032.
Mumtaz Alam, a resident of San Thome High Road has introduced a gift hamper of cookies, candies and toffees for Christmas.
This is apart from the rich plum cake and homemade wine that she makes for this season. The hamper is priced from Rs.600 to Rs.1500 and the plum cake is priced at Rs.100 for 150 grams.
Mumtaz also teaches women to cook turkey and duck dishes at this time of the year. She can be reached at 98414 27217, 99400 59217.
Shrinivasa Naik the owner of Padmashree Foods at CIT Colony says that his customers have already started buying his special rich plum cakes and home-made chocolates.  The plum cake is priced at Rs.350 per kilo.
Padmashree also sells homemade chocolate gift packs. This is priced at Rs.700 per kilo. One can also buy the cakes and chocolates in smaller quantities and pieces, he says.
Padmashree Foods is located at 4, Second Cross Street, CIT Colony. Ph: 2499 7567, 2499 5701.
Suriya Sweets located at R. A. Puram sells fruit baskets. This is like a flower bouquet, with the fruits arranged in a basked and packed with ribbons, says Saravanan, manager. This fruit basket has about 9 varieties of imported fruits
This package is provided only on orders and is priced from Rs.300 to Rs.5000.
Suriya Sweets is located at 66/ 47, 1st Main Road, R. A. Puram. Ph: 2431 0679.
Nilgiris stores located on Dr. Radhakrishnan Road and one at the south end of Santhome High Road have begun stocking plum cakes, walnut cakes and cherry cakes and homemade chocolates. These are priced from Rs.270 onwards.
They also take personalised orders for cakes.
You can shop here for special ingredients for Christmas cooking. Ph: 2462 0727 (San Thome). Ph: 2811 3755 (Mylapore).
Amma Nanna store near Hotel Park Sheraton offers plum cakes, turkey meat products and imported meats like salamis and bacons.
The turkey meat is priced from Rs.2700 upwards and the plum cake is priced from Rs.600. Amma Nanna can be reached at 2433 7812.
Hot Breads located at Oliver Road and R. K. Salai also offers special cakes.
They have plum cakes for Rs.420 a kilo.
We also have Royal icing cake, say the store manager at R. K. Salai branch. This is plum cake with icing and decoratives on top. It is priced at Rs.570 a kilo..
We also have Rawa cakes, Dundi cakes and rich chocolate cakes. These are priced at Rs.175 for 400gms.
They also undertake special orders.
The Oliver Road branch can be reached at 2467 1718 and the R. K. Salai branch can be reached at 2811 2660.
The Crown Bakery located at 128 Bazaar Road, Mylapore offers plum and sponge cakes for Christmas.
The plum cake is priced at Rs.200 per kilo. One can also buy in pieces, each piece is priced at Rs.10.
The sponge cake is priced at Rs.140 per kilo.
Orders are undertake for Christmas here till Dec.20.
For orders call 2467 0872.