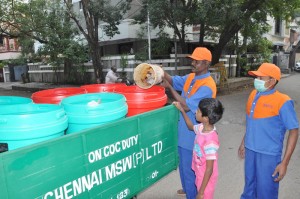 Will the garbage mounds that greeted you at street corners may be a thing of the past by this weekend.
The Hyderabad based conservancy agency, Ramky Enviro Limited, launched its operations on Thursday.
That though was a formal launch.
The teams in the Mylapore area only warmed up to the job and told Mylapore Times that they will be out on Friday morning to clean the streets and roads.
Mylapore neighbourhood falls under Zone 9 which has its headquarters in Lake Area, Nungambakkam.
The agency was given 'extra time' to launch but the men and machines are in place.
The contract with Neel Metal Fanalca expired on December 31 and since then, Chennai Corporation has been handling the garbage clearance work. Neel Metal was given charge of operations in only some zones. The rest fell under the civic body's ambit. Ramky's Helpline – 1800 425 1566.