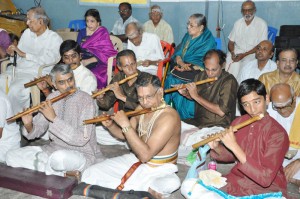 Senior musicians sang bhajan and pancharathna krithis on the occasion of 165th Thiagaraja Aradhana at Sri Thiagaraja Sangeetha Vidwath Samajam. Thiagarajapuram, Mylapore on Jan.13.
On Jan.21, 7 p.m. there will be a procession with the portrait of Sri Thiagaraja Swamigal around the samajam.
A similar aradhana was held at Bharatiya Vidya Bhavan, Mylapore. Many boys and girls participated in the concert held here.