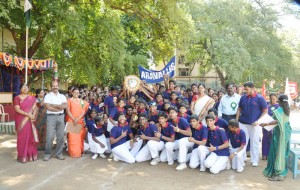 M.CT.M Chidambaram Chettyar Matric Hr. Sec. School, Alwarpet had its annual sports meet on Jan.21 at the school premises.
Kannan Pugazhendi, Sports Medicine Consultant and Lecturer, YMCA, Chennai presided over the function.
The event started off with the school choir singing the prayer song followed by the March Past by the four houses and other students groups.
Apart from the various track and field events students presented drills, pyramids formation, aerobics using hoola hoops and exercises.
A few events were also organised for the parents and alumni students of the school. The overall championship trophy was won by the Aravallis house.