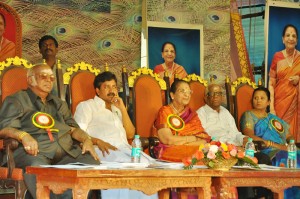 Popular and engaging speaker Sarada Nambi Arooran roused all the girl students at Rani Meyyammai Girls Higher Secondary School on Friday morning.
This Kalaimamani awardee made an inspiring speech at the launch of the golden jubilee celebrations of this school which is located at the far end of R. K. Mutt Road in the R A Puram zone.
Recalling her life as a teen in the outbacks of Tirunelveli where she was to become the first post graduate and first woman public speaker, Sarada peppered her speech with quotations and anecdotes as she set to inspire the student community gathered on a campus which was once surrounded by swathes of coconut groves.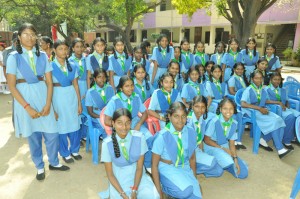 It was a colourful morning function gtaced by state minister C V Shanmugham, M A M Ramaswamy, Meena Muthiah, Geetha Muthiah and school Headmistress Magaiyakkarasi.
Members of the Red Cross and Scouts and Guides greeted guests with salutes and claps even as the morning rush hour traffic rolled by on the main road outside.
A number of alumni and well wishers of the school besides retired teachers and staff sat under the colourful pandal to be part of the formal event.
A smart jubilee souvenir book was released.
Later in the evening, the Mayor of the city S. Duraiswamy was to be the guest at a string of cultural events that the girls would present.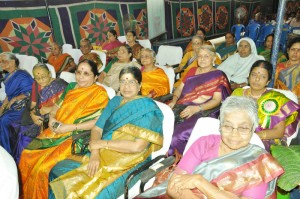 This school, started in June 1961 by Rani Meyyammai was to cater to girls from poor and middle-class families of Raja Annamalaipuram. It started with 300 students and classes were held in the open and in thatched classrooms. A time when the traffic on the main roar was a gentle purr.
<< Want to share your memories of life at this school? Mail to – mytimesedit@gmail.com. Enjoy the photos taken at this function at www.mylaporetimes.com >>