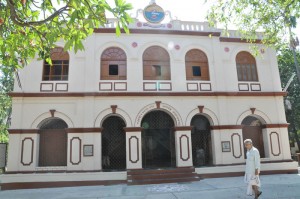 The 175th birth anniversary of Sri Ramakrishna and 12th anniversary of the Universal Temple consecration celebrations are going to be huge and interesting.
They will be held from Feb.22 to 26 at Sri Ramakrishna Mutt, Mylapore. About 40,000 people are expected to attend this five-day event.
A large stage has been erected inside the math's premises and at any given time about 3000 people can be seated here.
About 30 monks from other institutes in Tamil Nadu will be present on the occasion. Free lunch will be served to all.
There will be a series of lectures, discourse and talks besides rituals. All the events are open to the public. Here are some highlights –
Feb.22
Special pooja and chandi homam from 6.30 a.m. to 12.15 p.m.
At 7 p.m. music concert by Sikkil C. Gurucharan.
Feb.23
Special pooja and bhajans at 8 a.m.
Nama Sankirtan and abhanga at 1.30 p.m.
Special publication release at 4.30 p.m.
Public meeting at 4.40 p.m. Discourse on Upanishathukalin Saaram Sri Ramakrishna by Swami Shivayoganandaji and on Kuruttinai Neekkum Guru by Dr. Karu Arumuga Thamizhan.
Special lecture at 7 p.m.
Feb.24
There will be a Parliament of religions meet from 9.30 a.m. to 12.30 p.m. Leaders from Buddhism, Islam, Sikhism, Hinduism, Jainism and Christianity will take part.
Public meeting at 4.15 p.m. Talk on Spiritual Sadhanas according to Sri Ramakrishna by Swam Harshanansa and talk on Indraikku Sri Ramakrishnar by Justice V. Ramasubramanian, High Court, Chennai.
Special discourse at 7 p.m. on Vedamurti Sri Ramakrishna by Swami Omkaranandaji.
Feb.25
A congregation of monks will be held form 9.30 a.m. to 12.30 p.m.
At 2.45 p.m. there will be Kaviyarangam – on the glory of Sri Ramakrishna.
Special discourse at 4.15 p.m. on Sri Ramakrishna's guidelines for the welfare of women.
Music discourse at 7 p.m. by Vishaka Hari.
Feb.26
Youth convention – from 10 a.m. to 12.30 p.m.
Serve God in man: Honoring 175 poor people at 12.30 p.m.
Special discourse from 4.15 p.m. to 6.15 p.m.