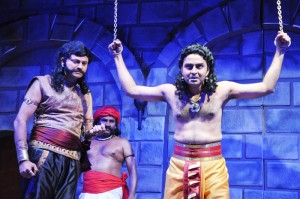 'Vaadhavooran', a Tamil play premiered at Narada Gana Sabha on Feb.1. The play is on the creator of Thiruvaachagam, Manickavachagar from Vaadhavoor.
This play is produced by Shraddha, a theatre group.
The sets, special effects and acting by the lead artist is of a high quality, said people who saw the play on day one.
The play will be held till Feb.4. There will be two shows on Feb.4. Tickets are priced from Rs.1000 onwards and will be available at the venue.
<<< Send us a review of this play to mytimesedit@gmail.com.