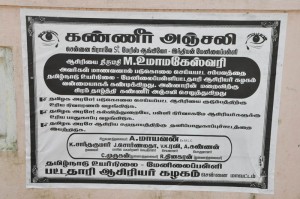 The school teacher who was murdered at a school in George Town on Friday was a resident of Mandaveli.
R. Uma Maheswari, aged 39 was stabbed to death by a 15-year-old student on Thursday, Feb.9.
Uma taught Hindi and Science for 9 and 10 std. students at the St. Mary's Anglo Indian Hr. Sec. School in Armenian Street, Parry's Corner for over a decade.
The incident took place inside a classroom. Family members said that Uma had been waiting for her students when the boy rushed in before the others did and slashed her throat and stabbed her abdomen and chest. She died on the way to a local hospital.
She was a resident of Mandaveli for over 15 years.
Uma Maheswari is survived by her husband C. V. Ravishankar and two daughters C. R. Sangeetha and C. R. Janani.
The family can be reached at 11, Srinivasa Apts, Norton 2nd Street, Mandaveli. Ph: 98841 64589