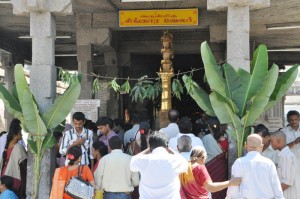 Hundreds of devotees headed to the Sri Kapali Temple in Mylapore on February 7 morning to pray at the shrine of Lord Singaravelan.
It was Thaipoosam day.
The shrine was decorated in the traditional way.
Devotees also paused at the shrine of Palani andavar which is located alongside the Navaratri mantap.
Temple gurukkul Balaji said that at 4 p.m. on Tuesday, the deity of Lord Muruga would be decorated in a style that befits a  king
 Stage set for teppam
Meanwhile, the float for the teppam was readied and stood by in the tank on the eastern side.
On Tuesday evening, the image of Lord Kapaleeswar and Karpagambal, decorated with flowers will be displayed inside the temple early in the  evening.
Following specific rituals, the deities are then taken out in procession inside the temple yard and then through Sannidhi Street, East Mada and South Mada Streets and R K Mutt Road and the procession enters the tank through the gate on the west side of the tank.
A puja is conducted there to enable special guests to pray and the deities are then placed in the decorated float.
The main deeparadhanai is held inside the float before the teppam begins to do the rounds inside the tank.
The water level in the tank is high and temple managers may allow only a few people to get inside.
The teppam makes 5 rounds on day one. Recitation of the Vedas, singing the thevaram, playing the nadaswaram and music by the band besides Carnatic music songs will mark each teppam round
Sambagalkura and troupe, K. Gayathri and her musicians and V. Deepika and Ashok Ramani and their group have been lined up to perform on each of the evenings of the teppam.
On Day 2, the teppam will do 7 rounds and on Day three, 9 rounds.
Three donors are funding the teppam events. They are – Poovirundha-valli Uyar Thulava-vellalar Sangam, Mylapore, Simpsons & Co. and Ramalingam Chettiar.
<< If you have shot pictures of the teppam, mail one great pic to us and we will use it here! >>