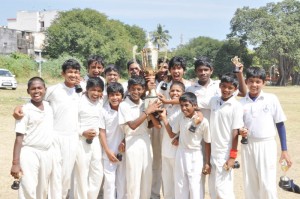 St. Bede's School beat arch rivals Santhome School in the 14th Vidya Mandir – Sportstar cricket tourney for the under 14 and lifted the handsome trophy.
The final was held at the Amir Mahal campus, Royapettah on Monday, Feb.6.
Santhome scored 140 for 8 in 30 overs while St. Bede's scored 141 for 5 in 29.4 overs.
St. Bede's had three heroes. D. Anchit scored 40 runs, S. Lokeshwar scored 65 runs and V. Barath Hariharan took 5 wickets.
For Santhome, there were two heroes. P. Ajith Kumar took 40 runs while P. S. Ragul scored 44 runs and 2 wickets.
The trophy was given away by S. Suresh, former Ranji Trophy and India 'A' player.
The St. Bede's cricket team consists  of S. Lokeshwar (C), V. K. Rohan Reddy, V. K. Karthikeyan, D. Anchit, C. Vijaya Balaji, Dhruv Sreewastav, D. V. Pranaush, S. Kaushik, V. Bharath Hariharan, G. Dilip, S. Abhishiek, A Mohd Adhan Khan, P. Hemcharan, V. S. Roshan and S. Ayman Khader.
Photo captions: Top – St. Bede's School team; Below left – Star- s of St. Bedes' School Barath Hariharan, S. Lokeshwar and D. Anchit; Right – Stars of Santhome School P. Ajith Kumar and P. S. Raghul.