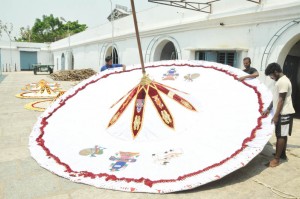 Five new umbrellas (kodais) for the gods have been specially made for the Panguni fest at Sri Kapali Temple.
They have been created by traditional artistes based in Chinnadaripet (Chintadripet).
They will be used for the first time this Panguni.
These and other details were shared by Executive Officer,  A. T. Paranjothi a press meet held at the temple office on Wednesday evening.
He said a giant pandal is being erected on the eastern yard outside the gopuram. Hundreds of people who visit the temple will be provided annadhanam at 12 noon during the fest period.
Security stands are being erected on all 4 mada veedhis for police to keep an eye and secure the area.
Police will also be on patrol in boats in the temple tank.
Daily, mornings and evenings Veda parayanam, thevara -pan-isai and nagaswaram will be held in and around the temple, the officer said.
Log on the http://www.mylaporepangunifest.blogspot.in for regular updates on the panguni fest