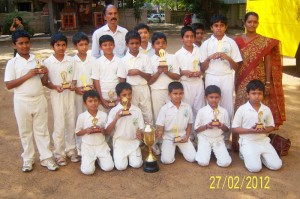 The junior cricket team of Vidya Mandir School were the runners-up in the U-10 Cricket Tournament conducted by PSBB Senior Secondary School, KK Nagar.
PSBB T.Nagar batted first and scored 153 for 6 in 30 overs. The boys of Vidya Mandir were able to score only 148 with a loss of 9 wickets in 30 overs.
Leading run scores for Vidya Mandir were, Dawal Sundrani, Naren Sivakumar, T.N.Anirudh and M.V.Arjun Ram. Abi Roshan was the captain of the team.
Leading wicket takers from Vidya Madir were Vaikunth Sudarshan and R.Srikrishnan.