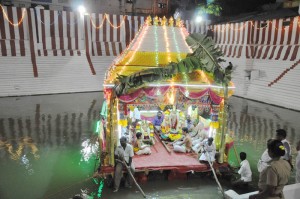 The teppam festival at Sri Madhva Perumal Temple, Mylapore was held from March 7 to 9 inside the temple tank.
On day one, the images of Lord Madhava Perumal and his consort Amirthavalli Thayar were taken in rounds. On day two, it was the image of Lord Ramapiran and on day three was the image of Lord Peyazhvar.
For more details call the temple office at 2498 5112.